TORRINGTON, Wyo – Goshen County 4-H families and volunteers gathered at the Rendezvous Center to recognize achievements of members, express appreciation for the 75 adults who volunteer in Goshen County 4-H and present awards for Outstanding Junior, Intermediate and Senior 4-H Members.
Awards for Outstanding 4-H Alumni, Friends of 4-H and Outstanding Leaders were also presented in addition to awards for Record Books and recognition of those members being inducted into the Wyoming 4-H Honors Club.
This year's Outstanding 4-H Members are Kenzie Wilkins (Junior), Lucas Gara (Intermediate) and Kylie Carson (Senior.) Nominated by peers and volunteers, these 4-H members represent the stellar quality of Goshen County 4-H through their service, enthusiasm and participation in county, state and national opportunities. These Outstanding 4-H members demonstrate a positive attitude and consistently serve as role models for other members. Kenzie, Lucas and Kylie received glass plaques and $100 from Empire Realty, Casey Essert.
Dawn Gara, Melanie Herring and Dawn Coxbill were recognized as this year's Outstanding 4-H Leaders in recognition of their dedication, enthusiasm and countless services to 4-H. These volunteers go above and beyond the normal efforts as 4-H volunteers.
Jennifer Booth was awarded the Outstanding 4-H Alumni Award and John and Shirley Resich Family and Pinnacle Bank were named as this year's Friends of 4-H.
The Wyoming 4-H Honors Club is the highest achievement 4-H members can attain and this year Goshen County is pleased to recognize members earning induction into the prestigious league of exceptional 4-H members: Jacob Chapman, Kadra Clark, Cora Frederick, Kendall Haas, Harrison Hall, Jadyn Hall, Carly Keller, Calli Klein, Gabriel Mitchell, Cody Powell, Durward Randall, Layne Johnson, Quentin Meyer and Abigail Mitchell.
The festivities included a meal, generously sponsored by Rose Brothers & Wyrulec, Club presentations, games and awards for excellence in record keeping via the state 4-H Record Book.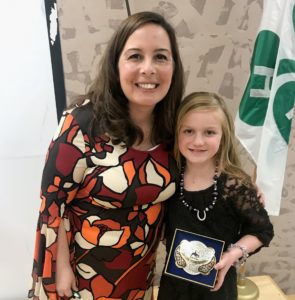 For more information on joining Goshen County 4-H, contact the Extension Office at 307-532-2436.