"What an amazing view," exclaimed Nebraska Governor Pete Ricketts on his first trip to the Dismal River Golf Club (DRGC) south of Mullen. He was a guest and keynote speaker of the Nebraska Cattlemen Sandhills Affiliate (NCSA) which had their fifth annual golf outing and summer meeting which included a steak supper. The day began for twenty-seven ranchers and business people with a round of golf. "This was the most we have ever had enjoy the unique course here," stated Tessa Quittner, Halsey, who is Secretary of the NCSA.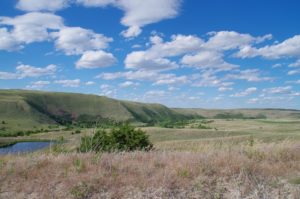 The Nebraska Cattlemen (NC) has divided the state into nine regions, with 44 affiliates divided among those regions. The NCSA is in Region 2, where the other affiliates include the Hyannis Affiliate, the Bassett Affiliate and the Valentine Cattlemen. Over 80 producers and guests of the NCSA were on hand to enjoy a great New York strip steak prior to Governor Ricketts talk. "We were so pleased with the turn-out, we had to use the central foyer for supper for the first time," stated Brenda Masek, vice-chairman of the Nebraska Cattlemen (NC) member services for Region 2, and past president of the NCSA.
Besides Quittner, other officers include – President -Frank Utter, Brewster, Dan Wacker, Brewster, Vice-President, Treasurer- Craig Miles, Brownlee. Another member, who compared heads with the governor is Troy Saner of Dunning. New to the board is Kelly Kennedy, Purdum, Adam Zutavern, Dunning, John Kraye, and Miles Mundorf. Mullen.
The NCSA includes all or parts of the counties of Blaine, Thomas, Hooker and southern Cherry. "DRGC is a great place to hold our summer get-together," stated Quittner. "Besides this event, we organize a Winter Ball which will be a New Year's Eve Ball at the new fair building on the Hooker County Fairgrounds at Mullen. This fall we will host our annual fall ranch tour." The NCSA also this year has provided hamburgers with all the trimmings at the local blood drives held in Thedford.
The evening was made possible in part by some of the local merchants who appreciate the business of the cattlemen throughout the year to make their livelihood.  The NCSA board shouts out a big THANK YOU to sponsors – Harsh Mercantile and Western Nebraska Bank, Purdum, Daniels Manufacturing, Ainsworth, Dismal River Golf Club, and First State Bank, Vinton Feed all of Mullen, Zoetis, Minert Simonson Angus, Dunning, Sandhill Oil of Thedford, Valentine, Hyannis, Farm Credit Services, Broken Bow, West Plains Bank of Ainsworth, Buckles Automotive Assman Implement, Merck Animal Health, Burwell Livestock Market, Miles Livestock Services and Genex, Brownlee, Ainsworth Motors, Schumacher Vet Clinic, Ideal Reality, Bow Tax & Accounting, Inc., Monaghan Ranch, V Bar Trailer Sales and Vitalix/Travis Schauda, from Broken Bow, Clark Trucking, AL Ranch, Halsey, Broken Bow Animal Hospital, Ag-Land ATV, Broken Bow and Rosebud Casino. "We began last year seeking sponsors for the full year so we contact them only once rather than three times, which has worked out well for both sides," explained Quittner. President Utter was unable to attend, so Quittner was emcee for the evening.
After supper, all attendees moved into the banquet room to hear updates on the state by Governor Ricketts. His goal has been to grow agriculture and with beef being the number one segment of that, he is proud of the efforts of our producers and the commitment they have to bring the best beef in the world to the table. He knows the stewardship of multi-generational Nebraska ag producers is the reason for Nebraska ranking first in beef production. He went on to say, "China has opened its border to U.S. beef, I was on hand at Greater Omaha Packing to help load the first shipment within 48 hours of the news of their border reopening. Nebraska exports already 18 per cent of all beef leaving the U.S., we expect that to grow with this new market. It has been over 14 years since China closed its border to U.S. beef. Since that time, their middle class is growing, and when they get a taste of our beef, they'll want more. Japan has increased their beef imports by 36 per cent from 2015 to 2016. He was disappointed that no property tax relief bill made it through this year's legislature. "We are working on income potential rather than ag land valuations. Other surrounding states do that, it is time we join them. It is time to alleviate the burden of our ag producers."
Governor Ricketts also announced his trade mission trips to Japan in September and to Canada within the next couple of months. He answered questions after and several were reassured with his impression of the new president. "The previous administration never once came to me and other governors, Trump's administration wants our input, and visits with us on several key issues. I attended an Energy roundtable discussion with other governors and the administration. Trump supports bio-fuels, and with Nebraska second in the nation of ethanol production, it is important to us to be part of the process." When NAFTA came up, he said it is not being thrown out, but it is time to 'modernize' it, as it is twenty-five years old; all treaties need to be re-looked at.
After the governor spoke, Masek and Quittner gave updates on the mid-year summer meeting and on the NC foundation respectively. Quittner also gave the dates for the upcoming NC summer road trips July 24 to 27 which will cover not only legislative items but other topics. Go to www.nebraksacattlemen.org for complete info under events tab."
The evening concluded with many around the lodge's campfire, socializing with friends they seldom see while soaking in the beautiful Nebraska sunset. All agreed with the Governor, the view is amazing at the Dismal River Golf Club south of Mullen.