WACO, Neb. – A single-semi accident on Interstate 80 near the Waco exit, ended with one person being transported to the hospital with serious injuries.
According to the York County Sheriff's Office, they were dispatched around 6:35 p.m. Tuesday evening to mile marker 361 eastbound, to a report that a tractor trailer had lost control on the interstate, most likely due to weather, and careened roughly 20 feet down into a ravine.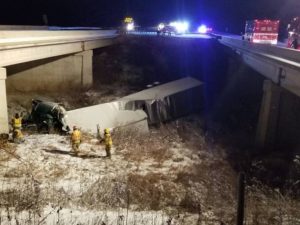 The 2017 WANC semitrailer hauling syrup, was driven by Nicholas Manzanares, 29, of Greeley, Colorado. The jaws of life were used to extricate Manzanares who is said to have suffered severe internal injuries. Authorities say it is unclear whether Manzanares was wearing a safety belt. No passengers were present in the vehicle.
Waco Fire & Rescue, York Fire & Rescue, and the Nebraska State Patrol assisted at the scene.