Lincoln, Neb. — The Nebraska Department of Transportation (NDOT) Director,
Kyle Schneweis, released today the fiscal year 2018 Surface Transportation Program.  This publication details how the Department plans to use the taxpayer's highway user dollars to provide the best state highway system possible for all Nebraskans and the traveling public.  This program does not include any Aeronautics related construction.
The 2018 State Highway System Program is published at $481 million and is funded from state and federal highway user taxes and fees.
One hundred projects will be let to contract on the State Highway System during fiscal year 2018 (July 1, 2017 through June 30, 2018).
Samples of highway and bridge preservation work in District 1 & District 4 include:
(Click to enlarge)
District 1
District 4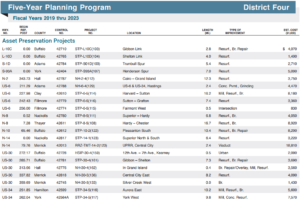 Funds from The Build Nebraska Act will support 4-lane capital improvement on the US-30 expressway from Rogers to North Bend in Dodge County.
The 2018-2023 Nebraska Surface Transportation Program and an interactive GIS map is now available at http://dot.nebraska.gov/projects/publications/program-book/