Sunny blue skies over Scottsbluff early Saturday morning made for nearly perfect conditions for the annual Airport Appreciation Day and Fly-In event at Western Nebraska Regional Airport.
A nice crowd was on hand as general aviation aircraft began arriving early.
The Nebraska Air National Guard's KC-135 refueling tanker from the 155th Refueling Wing in Lincoln was a big hit after being flown in by Captain Tyler Sandberg of Gering
Construction on the east end of the tarmac where the event is usually held cause the entrance to be moved this year, and was located close to the main terminal building.
Member pilots of the local EAA Chapter 608 performed a number of Young Eagles flights for kids.  Launched in 1992, the EAA Young Eagles program gives interested young people ages 8-17 an opportunity fly in a general aviation airplane. These flights are free of charge and are made possible through the generosity of EAA volunteer pilots.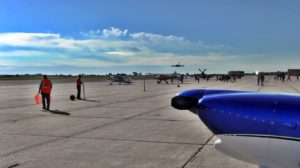 Special Olympics Nebraska and the Law Enforcement Torch Run  hosted a Rescue Truck pull event, "Pulling for a Purpose." 10-person teams matched up to see who could pull the 48,800 pound airport crash rescue truck 15 feet the quickest.
The annual Kiwanis breakfast got things started when the gates opened at 7 a.m.