YORK, Neb. – The York County Courthouse expansion continues to move forward.
On Tuesday, the York County Commissioners were presented an update from Steve Severson with Berggren Architects, on the new "call center" addition on the north side of the courthouse.
(Click to enlarge)
Severson explains the next steps in the process.
The land is currently being surveyed. Geotechnical investigations will be conducted in the coming weeks. Bid letting for the project could begin as soon as late June or early July, with a potential for dirt being turned in October or September.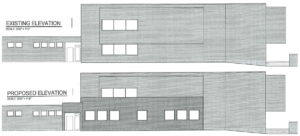 Berggren Architects is also heading the facade improvement project as part of York's Downtown Revitalization Project.